Driver Armor Privacy Policy
Welcome to ("driverarmor.com", "Driver Armor", "we", "us", or "our"). Driver Armor is a driver apparatus created by us. Upheld by tremendous equipment driver database, Driver Armor gives clients quick access to the most recent driver adaptations utilizing a driver scanner.
We have built up this security arrangement to exhibit its sense of duty regarding ensuring your protection. These security arrangements (the "Protection Policy") depicts our information security works on, including what kind of data is accumulated, how we utilizes the data, and how we defend your Personal Information when you submit it to us at www.driverarmor.com.
Your security is imperative to us. To better secure your protection we give this notice clarifying our data rehearses and the decisions you can make about the way your data is gathered and utilized. To make this notice simple to discover, we make it accessible on our site.
Why Driver Armor Collects Personal Information?
Your gadget's equipment and programming stock data would be gathered by Driver Armor keeping in mind the end goal to convey our driver and other gadget related proposals, download access, and establishment robotizations gave in Driver Armor. The equipment and programming stock information is pivotal for Driver Armor and servers to coordinate the best updates driver for your gadget. We acquire this data keeping in mind the end goal to enhance our administration for you.
Individual Information We Collect
Driver Armor gathers your Personal Information when you put in a request, (which may expect you to give individual data, including a Visa number, to our business suppliers) enroll programming, ask for administrations or participate in different exercises on our Web website. Amid these cooperation's, Driver Armor gathers relative Personal Information, for example, your name, email address, charge card data alongside data about the Driver Armor, for example, the initiation code, date of procurement and data. We utilize this data for charging purposes and to take care of your requests. In the event that we experience difficulty preparing a request, we will utilize this data to reach you. We won't utilize your own data for awful reason. If it's not too much trouble know that on the off chance that you favor not to give us your Personal Information, on the grounds that such data might be essential for us to give our administrations, we will be unable to make such administrations accessible to you.
Data for Device Hardware and Software
The checking innovation exhibit in Driver Armor is intended to gather all equipment ID's and programming marks show in the framework and this information would be sent back to our servers. We utilize this data so our servers can react back to our product with a rundown of prescribed drivers. This data is additionally used to help any specialized, item, or client bolster ask. If it's not too much trouble know that in the event that you might not want to give this stock data, our product will most likely be unable to give you benefits.
Acknowledgment for Privacy Policy
By utilizing the Web webpage or administrations gave on driverarmor.com, you would consent to the utilization and divulgence of data expressed in this Privacy Policy.
Changes Notification
We may change or refresh this Privacy Policy now and again, so please audit it intermittently. We will post any progressions, alongside viable date, in this page. You're preceded with utilization of Driver Armor or the Service after any adjustment to this Privacy Policy will constitute your acknowledgment of such change.
Reaching the Web Site
On the off chance that you have any inquiries or remarks about this security proclamation, the acts of our locales, your dealings with any of our sites, or driver issue when utilizing our product, please don't hesitate to contact care@driverarmor.com
Cancel Your Subscription Any Time!
1. Click on My Account Button.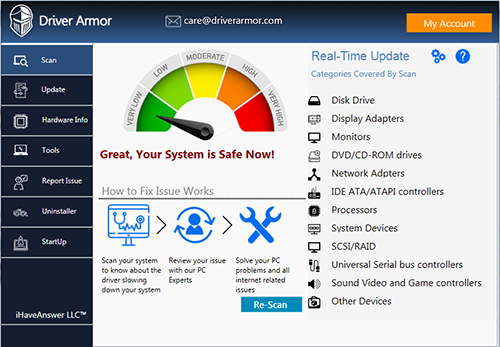 2. Click on Cancel Subscription Button.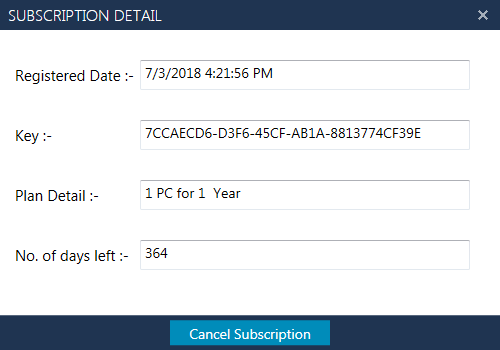 3.You can also open subscription details by clicking on Manage My Subscription Button.